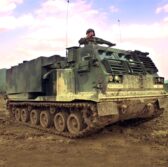 Orbital ATK has received a $14 million contract from Lockheed Martin to build alternative warheads for the U.S. Army's Guided Multiple Launch Rocket System.
Orbital ATK recently tested the warheads with lethality enhanced ordnance technology to Army standards for area effects and the design met the GMLRS requirements, Orbital ATK said Wednesday.
"We are very excited to be part of the Lockheed Martin GMLRS program fielding this technology and its many applications within the military," said Pat Nolan, vice president and general manager for Orbital ATK's missile products division within the defense systems group.
The warheads consist of the small organic precision munition, M1061 mortar round, 155 millimeter unitary cannon cluster munition replacement and the small diameter bomb.