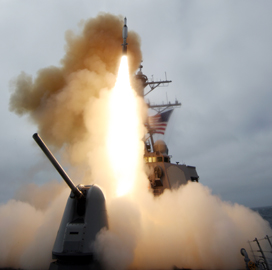 A Lockheed Martin-built baseline for the Aegis Combat System has received certification from the U.S. Navy and the Missile Defense Agency for integration with the Navy"™s destroyers.
Jim Sheridan, director of Aegis programs at Lockheed Martin, said Monday the Baseline 9.C1 works to help the Aegis combat platform carry out ballistic and air missile defense and networking functions through coordination with ground-based radar and satellite assets.
The Aegis system has a SPY-1 radar, SM-3 missile and MK 41 vertical launching system that work to perform surveillance, missile defense and anti-aerial warfare functions for warships.
Lockheed also integrated BMD 5.0 Capability Upgrade with the baseline as a programming update to Aegis"™ ballistic missile defense capability and used open-architecture design and commercial off-the-shelf components to develop the new baseline.
The certification comes after MDA and the Navy completed a series of multi-mission warfare tests onboard the USS John Paul Jones (DDG 53) guided-missile destroyer.