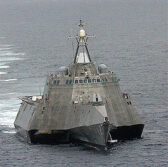 Joe North, vice president of Lockheed Martin"™s Littoral Combat Ship program, has said the company will continue to build combat ships for the U.S. Navy through mid-2020s despite program reductions, DoD Buzz reported Monday.
Hope Hodge Seck writes Defense Secretary Ashton Carter ordered the Navy in December to reduce the number of ships from 52 to 40 for the service to buy.
The Navy plans to purchase Freedom-class vessels from Lockheed and Independence Class ships from Austal, according to the report.
"We have not seen any "™17 budget exhibits yet," North told a briefing with reporters.
"That"™ll tell me exactly where we end up as far as work, but I predict it"™s well into 2025 or later and then we"™ll see what the frigate in the FY19 acquisition strategy turns out to be before we can determine more impacts on what we"™re doing in the production cycle," he said.