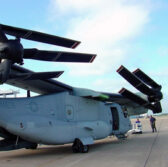 The Woolpert–KZF joint venture has been selected to support Jacobs Engineering in the design of the $150 million CV-22 Osprey campus in Japan under task orders worth $6.95 million from the U.S. Army Corps of Engineers.
The Japan district of USACE intends for the complex at Yokota Air Base in Fussa, Japan, to support the beddown of Osprey aircraft, Woolpert said Tuesday.
The campus will comprise an aircraft maintenance hangar, a squadron operations building, a warehouse, a flight simulator facility and a headquarters building.
Project Manager Rebecca Knolle said Woolpert started the CV-22 campus development plan with U.S. Air Force Special Operations Command in 2013.
Construction will begin in 2017 and continue through 2021.
The Boeing-built Osprey aircraft is designed for joint service multirole combat missions and adopts the vertical performance of a helicopter and the speed of a fixed-wing aircraft.