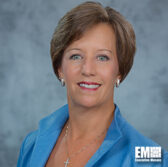 Rebecca Cowen-Hirsch, a senior vice president at Inmarsat, has said her company and five other satellite contractors will collaborate with the Defense Department to test the Commercial Integration Cell program within DoD"™s Joint Space Operations Center.
Cowen-Hirsch wrote in an Inmarsat blog post published Monday that she expects the program to help improve the Pentagon"™s space operations and increase awareness on commercial satellites within the military sector.
She cited the release of a Government Accountability Office report as one of the developments in the satellite communications sector in 2015.
According to the report, GAO urged DoD to determine inefficiencies in the acquisition of satcom systems through spending analysis.
Cowen-Hirsch also mentioned that Inmarsat is scheduled to launch by the second half of this year the fourth satellite for the Global Xpress satcom network that works to offer mobile communications services to clients.