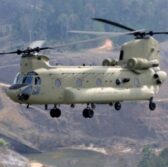 Germany has narrowed its choices for the country's next helicopters to the Boeing Chinook and Sikorsky King Stallion with the selection lined up to succeed the latter company's Sea Stallion, Defense News reported Sunday.
Lars Hoffman writes Germany's air force plans to make a selection by the end of 2016, according to the report.
The country's defense ministry released a military aviation strategy paper last week that forecasts a contract award by 2018 and deliveries to start by 2022, Hoffman reports.
Germany also plans to procure future combat air system that will incorporate features from Eurofighter, Tornado, the Tiger combat helicopter and from future weapon systems, according to Defense News.