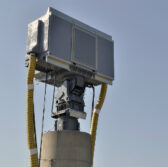 Two Finmeccanica subsidiaries have received orders for naval craft and surveillance systems worth an estimated $132.5 million from the Angolan government, Defense News reported Tuesday.
Oscar Nkala writes Angola will acquire coastal radar and repeater communication systems from Selex for use in the National Maritime Security Coordination Center to be set up in Luanda and other stations by 2017.
Selex will provide installation, training, spare parts and equipment support to the customer under the contract.
Finmeccanica subsidiary Whitehead Sistemi Subacquei will also deliver fast-attack naval vessels and provide maintenance and training services to the Angolan navy under another contract, Nkala reports.
The maritime surveillance equipment acquisitions are part of Angola's effort to upgrade the nation's naval technical and manpower assets by 2017, Defense News reports.