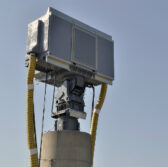 Harris subsidiary Exelis has received a one-year, $14.1 million contract modification to perform systems engineering, sustainment and integration work on multiple ground-based radars and optical sensor platforms for the U.S. Air Force.
Exelis will help maintain the Globus II radar infrastructure, Ground-Based Electro-Optical Deep Space Surveillance, Ballistic Missile Early Warning System, Precision Acquisition Vehicle Entry Phased Array Warning System and Perimeter Acquisition Radar Attack Characterization System under the contract, the Defense Department said Thursday.
The company will also support the Air Force's distributed space command-and-control facility in Dahlgren, Virginia.
The military branch is obligating full contract amount from its fiscal 2016 operations and maintenance funds at the time of award and Exelis is scheduled to complete work Dec. 31.
Exelis said it collaborates with the Air Force to help the military branch engineer, sustain and modernize a global array of radar and sensor systems that are designed for missile warning and defense and space management activities.