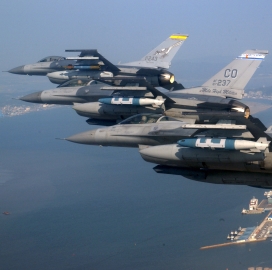 Sohail Aman, air chief marshal and head of Pakistan's air force, has said that Pakistan is in discussions with the U.S. government to buy new F-16 planes as replacements for older generation aircraft by 2020, Defense News reported Wednesday.
Usman Ansari writes Aman said at an event that "it may take some time" before the two countries reach a deal over the procurement of new fighter jets.
Aman's statement comes after reports in October 2015 that Pakistani Prime Minister Nawaz Sharif would pay a visit to Washington in order to persuade the U.S. to allow the sale of eight more F-16 jets to Pakistan amid India's lobbying efforts in Congress.
Brian Cloughley, an author and former Australian defense attache to Islamabad, Pakistan, told the publication he believes such a sale could push through.
"The India lobby in Congress is quite powerful and might help to block such sales to Pakistan, but the defense production lobby is much more influential," Cloughley noted.
Kestrel represents F-16 aircraft manufacturer Lockheed Martin in Pakistan.