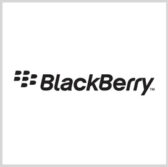 BlackBerry has received a $20 million order to deliver a communications platform for the Department of Veterans Affairs' notification and personnel accountability systems in an effort to help protect employees and contractors during crises.
The company's AtHoc networked crisis communication system will work to centralize response activities and provide real-time status of all users to VA officials, BlackBerry said Monday.
"We are proud to continue to provide this critical life safety system to the VA and look forward to continuing our work together to build an innovative and secure enterprise crisis communication network," said John Chen, executive chairman and CEO of BlackBerry.
BlackBerry added it will expand the scope of the system to more than 600,000 VA personnel.
The system delivers alerts through telephones, text, pagers, fax, desktops, smartphones and other digital media systems.
VA made the award to AtHoc's reseller partner Four Points Technology under the NASA Solution for Enterprise-Wide Procurement contract vehicle.