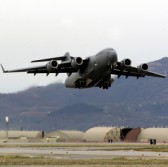 Pratt & Whitney is scheduled to deliver a company-built engine for the C-17  Globemaster III transport aircraft of the U.S. Air Force in late January.
It is the last of the 1,313 F117 production engines that Pratt & Whitney has built for the military branch, the company said Tuesday.
Pratt & Whitney commemorated the engine delivery milestone at a ceremony held Tuesday at a company facility in Middletown, Connecticut, and attended by representatives from the Air Force and C-17 manufacturer Boeing.
"The F117 production engine program might be ending, but we look forward to working with our customers around the world to sustain their engines and to keep the C-17 fleet flying for decades to come," said Bennett Croswell, president of Pratt & Whitney's military engines business.
Pratt & Whitney, a United Technologies Corp. unit, offers the F117 as part of its PW2000 commercial engines portfolio and designed the motor to generate up to 40,440 pounds of thrust.
The F117 engine technology helps power C-17 airlifters that Boeing has produced for the U.S., Australia, the U.K., Canada, Qatar, the United Arab Emirates, India, Kuwait and NATO.