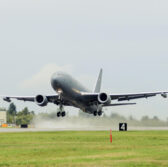 The U.S. Air Force and Boeing on Sunday demonstrated a company-built KC-46A Pegasus tanker aircraft during an initial refueling test with an F-16 jet.
Crews launched the KC-46A at Boeing Field airport in Seattle and worked to offload up to 1,600 pounds of fuel into the F-16 as both planes flew around 20,000 feet over Washington state, Boeing said Sunday.
The tanker executed multiple contacts with the fighter jet during the almost 6-hour flight.
Air Force Col. Christopher Coombs noted the flight test "kicks off the Milestone C aerial refueling demonstration, which is the prerequisite for the low-rate initial production decision" on the tanker aircraft.
Reuters' Andrea Shalal reported Monday the company will build up to 179 KC-46As for the Air Force through the potential $49 billion contract and is scheduled to deliver the first 18 tankers by August 2017.
The tankers will be designed to refuel aircraft of the Air Force's military allies and coalition partners as well as carry military personnel, equipment and patients.
The Air Force plans to test KC-46A in conjunction with other Boeing-built military aircraft platforms such as C-17, F/A-18, A-10 and AV-8B.