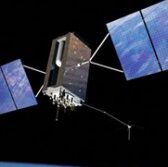 The U.S. Air Force's Remote Sensing Systems Directorate has completed the 14-day Block 10 integrated test and evaluation readiness soak on the Space Based Infrared System's ground segment, the service branch reported Jan. 21.
The directorate conducted the test at Buckley Air Force Base in Colorado beginning Jan. 5 to check the system's readiness and stability ahead of the Air Force Operational Test and Evaluation Center's formal evaluation.
"This is a full-function test flight of our new ground system where our airmen conduct full warning and detection functionality combined with intensive spacecraft command and control of all three of our spacecraft constellations," said Col. John Wagner, commander of 460th Space Wing.
SBIRS works to provide overhead infrared sensor capability to support intelligence, battlespace awareness, missile defense and missile early-warning operations.
SBIRS Block 10 integrates the geosynchronous Earth orbiting satellites, highly elliptical orbit sensor payloads and the Defense Support Program's operational command-and-control functions.
"For the first time, live mission messages were sent from the Block 10 floor… This is another huge step toward operational acceptance," said Col. Mike Guetlein, remote sensing system director.