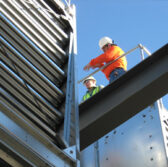 The U.S. Army has released an invitation for bids on the construction of a command-and-control facility and cyber protection team operations facility at the Army Cyber Command headquarters at Fort Gordon.
A notice posted Dec. 18 on FedBizOpps stated that the Army Corps of Engineers plans to utilize a two-step sealed bidding process for the potential $250 million construction project.
USACE will evaluate offerors based on relevant specialized experience and past performance with sensitive compartmentalized information facilities and federal government or defense installations with controlled access.
The notice indicated that the eventual project will be a design-bid-build, firm-fixed-price contract awarded under fiscal years 2016 and 2017.
The Step 1 solicitation will run from Feb. 3 through Mar. 4, while Step 2 will run from May 27 through June 27.