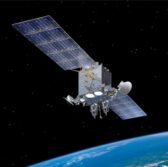 Telesat has selected Space Systems Loral, a subsidiary of MacDonald Dettwiler and Associates, to produce a communications satellite for the satellite operator's infrastructure in the Asia Pacific region.
The Telstar 18 VANTAGE satellite will incorporate C- and Ku-band transponders and combine broad regional beams and high-throughput spot beams to help expand the company's Asia Pacific coverage, MDA said Wednesday.
The satellite is scheduled for launch in 2018.
Dan Goldberg, Telesat's president and CEO, said Telesat and SSL's engineering teams collaborated on the 18 VANTAGE satellite in response to the needs of customers in Asia.
"Our companies have a long history of working together to help expand the world's communications infrastructure," added John Celli, president of SSL.