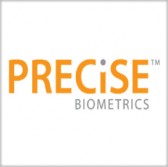 Precise Biometrics has received a $131,842 follow-up order for its Tactivo mobile smart card reader from the Defense Logistics Agency.
DLA placed the order through Precise Biometrics"™ partner TX Systems and the company will produce Tactivo for iPhone devices, Precise Biometrics said Tuesday.
"We are pleased to see that DLA continues to scale up their usage of Tactivo for convenient and secure mobile access to information systems and resources," said Hakan Persson, CEO of Precise Biometrics.
Tactivo is designed to be based on the existing common access card infrastructure.