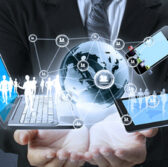 Motorola Solutions has pumped cash into BlueLine Grid"™s suite of messaging products in an effort to help provide collaboration tools to public safety, security and law enforcement officials.
BlueLine offers messaging, location, conferencing, virtual command and file-sharing to clients for internal communications, BlueLine said Friday.
Paul Steinberg, Motorola Solutions chief technology officer, said BlueLine's data access and collaboration tools can be potentially integrated with Motorola's technology "to help create better outcomes for our customers."
BlueLine also received investment from In-Q-Tel in May to expand its mobile messaging system.