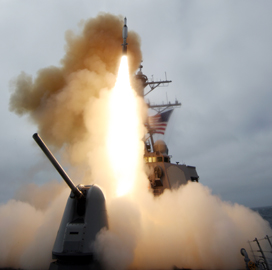 The Missile Defense Agency has awarded a.i. solutions a potential three-year, $73 million contract to provide engineering, consulting and mission assurance support services for the Ballistic Missile Defense System.
The cost-plus-fixed-fee contract also covers risk management quality assurance process, system fielding, sustainment, ground and flight tests, configuration management, parts, and test anomaly and technical risk identification support, the Defense Department said Tuesday.
BMDS is an integrated architecture that works to counter ballistic missiles and their warheads before they hit their targets.
The system's components include a command, control, communications and battle management network; sea- and ground-based radars and sensors for target identification; and interceptor missiles.
MDA's contracts directorate awarded the contract through a competitive acquisition process and will obligate $2.9 million from fiscal 2016 research and development funds at the time of award, according to DoD.
Work will occur in Virginia, Alabama, Colorado, Utah, Arizona, Alaska, Missouri, Florida and California through Dec. 17, 2018.
Maryland-based a.i. solutions is a small business that works to provide missile defense systems assurance, space mission engineering, launch vehicle support, emergency management and cyber assurance services for defense and civilian agencies.