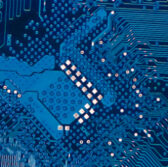 GE Aviation has been awarded an 18-month, $3.4 million contract with the U.S. Army to study and develop a silicon carbide-based power electronics system for installation on the service branch's ground vehicle electrical power architecture.
The research and development project is meant to test the application of GE's silicon carbide MOSFET technology on a main engine cooling fan controller and coolant pump controller, GE Aviation said Monday.
Vic Bonneau, president of electrical power systems for GE Aviation, said the silicon carbide material works to drive power, weight and size improvements for electric power technologies.
Global Embedded Technologies will work to produce and integrate the controllers and Marvin Land Systems will supply the main engine cooling fan and coolant pump.