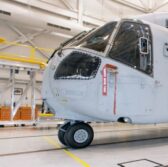 Erickson has delivered a fourth tail pylon to Lockheed Martin subsidiary Sikorsky for integration with the CH-53E Super Stallion helicopters of the U.S. Marine Corps.
Erickson will ship the last aircraft tail pylon by the end of this year as part of a contract with Sikorsky to produce five out-of-production spare tail pylons for the service branch, Erickson said Dec. 17.
Erickson assembles the aircraft components at its facility in Central Point, Oregon.
The CH-53E aircraft is built to carry up to 73,500 pounds of cargo, has three engines and is part of the service branch's squadron of heavy-lift helicopters that fit on amphibious assault ships.