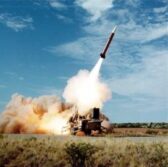 A new Congressional Research Service report says the U.S. recorded $36.2 billion in foreign arms sales in 2014, an approximately $10 billion increase from $26.7 billion in 2013, DoD Buzz reported Monday.
Brendan McGarry writes the U.S. worldwide arms transfer deals are comprised mainly of Qatar's $9.6 billion purchase of Lockheed Martin-built Patriot PAC-3 missiles, Raytheon-made Javelin missiles and Boeing-produced AH-64 Apache attack helicopters, and South Korea's $7 billion order for Northrop Grumman-built RQ-4 Global Hawk drone and other supplies.
According to the congressional report, the total arms sales worldwide hit $71.8 billion in 2014.
Nicholas Fandos also reports on The New York Times that Russia ranked second to the U.S. in foreign weapons sales, followed by Sweden, France and China.
South Korea inked weapons contracts worth $7.8 billion in 2014, making it the world's top arms buyer followed by Iraq and Brazil, Fandos writes.
The report also concluded that the international market for weapons remained steady in 2014 due to "the weakened state of the global economy," according to NY Times.