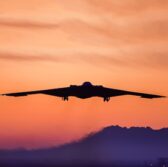 Air Force Secretary Deborah Lee James has said the service branch desires to purchase 100 Long Range Strike Bomber planes under that multi-year program, Defense News reported Wednesday.
Lara Seligman writes the figure James cited at a National Press Club event Wednesday corresponds to the ceiling the Air Force put on the number of bombers it would purchase under a contract it awarded to Northrop Grumman in October.
Boeing and Lockheed Martin in November filed a protest with the Government Accountability Office to challenge that contract award and GAO has 100 days from the filing to review the Air Force's selection of Northrop.
Retired Lt. Gen. Michael Moeller recommended the Defense Department to buy 200 LRS-B aircraft by 2045 in a study published by the Mitchell Institute for Aerospace Studies on Nov. 18, Seligman reports.