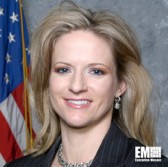 Casey Coleman, group vice president for Unisys' federal civilian business, has highlighted several challenges she believes the government faces as agencies work to achieve their goals.
Coleman wrote in a blog post published Monday that government executives shared the issues they currently confront during the recent Executive Leadership Conference, where participants discussed what to "expect and should aspire to achieve in government IT by the year 2020."
She said one of the takeaways from the conference was that technology advances outpace governance, budgeting and regulatory structures.
Coleman observed that agencies currently face challenges in drones, robots, the Internet of Things, three-dimensional printers, driverless cars and sensor-based networks even if they have not adapted to cloud, mobility and social computing technologies.
She believes those challenges are not the chief information officer"™s alone, but also of the procurement, personnel, finance, legal and program office teams.
Coleman cited the General Services Administration"™s Acquisition Gateway as a development she said can promote progress on these fronts.
"GSA"™s Acquisition Gateway is a place for acquisition professionals to develop expertise, share reusable procurement information and make more informed decisions," Coleman wrote.