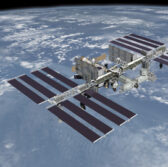 Boeing has received its second task order from NASA to transport crews and their cargo to the International Space Station under the company's potential $4.2 billion Commercial Crew Transportation Capability contract.
The company secured the order after it completed internal design assessments and interim developmental milestones for its CST-100 Starliner space capsule, United Launch Alliance-built Atlas V rocket and related ground system, NASA said Saturday.
Boeing was awarded its first crew mission task order in May, while SpaceX received its initial task order in November through the $2.6 billion CCtCap contract it secured in September 2014.
SpaceX will use its Crew Dragon spacecraft to transport crews to the ISS in 2017.
"Once certified by NASA, the Boeing CST-100 Starliner and SpaceX Crew Dragon each will be capable of two crew launches to the station per year," said Kathy Lueders, manager of commercial crew program at NASA.
A standard commercial ISS mission would bring four crew members and approximately 220 pounds of cargo to the space station and allow each space vehicle to stay at the ISS for up to 210 days in order to serve as an emergency "lifeboat."
Boeing and SpaceX could perform up to six crewed flight services under the CCtCAp program.