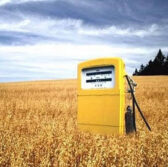 Boeing has partnered with the Port of Seattle and Alaska Airlines to conduct a $250,000 feasibility study on an infrastructure that will work to facilitate the use of aviation biofuel by all airlines at the Seattle-Tacoma International Airport.
The Port of Seattle will oversee the study as well as engineering and integration operations for the proposed biofuel infrastructure project as part of its goal to achieve a 25-percent reduction in carbon emissions at Sea-Tac airport by 2037, Boeing said Wednesday.
Boeing will work to develop a regional supply chain for such infrastructure at the airport under a memorandum of understanding with the port and Alaska Airlines.
"This study is a critical step in advancing our environmental goals and stimulating aviation biofuel production in the Pacific Northwest," said Joe Sprague, senior vice president of communications and external relations for Alaska Airlines.
Sheila Remes, VP of strategy at Boeing's commercial airplanes unit, added that Boeing expects the project to encourage other airports to promote the use of biofuel blended with regular jet fuel.
The partners will issue a request for proposal on the study by spring and expect the research work to conclude late next year.