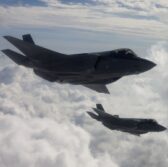 U.S. Air Force pilots have begun to train with new Lockheed Martin-made simulators for the F-35 Lightning II aircraft at Hill Air Force Base.
The simulators are designed to create virtual environments for pilots to develop tactics and incorporate the F-35 into their operations, Lockheed Martin said Tuesday.
"All the pieces of the technology puzzle are coming together to support the Air Force's F-35 mission readiness," said Mary Ann Horter, vice president of F-35 sustainment support at Lockheed Martin.
The 34th Fighter Squadron at Hill Air Force Base is set to achieve combat readiness in August 2016, according to Lockheed Martin.