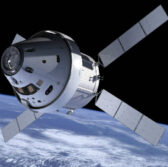 A joint venture of Thales Group and Finmeccanica has delivered the test model of the Orion spacecraft's European Service Module to NASA's testing facility in Ohio for further structural design tests.
Thales Alenia Space performed initial tests on the structural test model of ESM at its facility in Turin, Italy, prior to the shipment, Thales Group said Monday.
ESM will work to provide power supply, propulsion and thermal control capabilities for NASA's Orion, which is built for deep space exploration.
Thales Alenia Space also builds thermomechanical systems for Orion's ESM under a potential $103 million contract it secured from Airbus Defense and Space in September.
NASA is scheduled to launch the first unmanned flight with Europe's participation in 2018 and initial crewed flight mission by 2021.
Airbus Defense and Space is the primary contractor on ESM under a contract with the European Space Agency, while Lockheed Martin's space systems business serves as the principal contractor on Orion under a NASA contract.