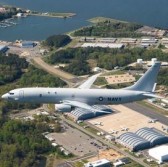 A Griffon subsidiary has won a potential $21 million contract to produce and install AN/UPX-40Â Identification Friend or Foe interrogation systems onboard the Boeing-built P-8A Poseidon aircraft of the U.S. Navy and Australian air force.
Telephonics received the multi-year, indefinite-delivery/indefinite-quantity contract for the AN/UPX-40 IFF system from the U.S. Naval Air Systems Command, the company said Monday.
The Telephonics-built AN/UPX-40 IFF platform works to provide command-and-control capabilities for aerial defenders and air traffic controllers and help them determine friendly forces.
The system also works to provide Automatic Dependent Surveillance-Broadcast function across multiple channels.
"Telephonics is pleased to be chosen for these mission-critical U.S. Navy and Royal Australian Air Force programs that help monitor, manage and further secure airspace and maritime domains around the world," said Joseph Battaglia, president and CEO of Telephonics.
The contract comes after the U.S. Air Force completed the first integration of AN/UPX-40 with the Boeing-made E-3 Sentry Airborne Warning and Control System aircraft in July.