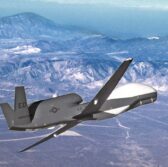 NASA has partnered with a Strat Aero affiliate to research and build a system for monitoring of civilian unmanned aerial vehicles that fly at a low altitude.
Emerging Technology Ventures joined the agency's Unmanned Aerial Systems Traffic Management project with the goal of helping to ensure safe drone flight operations with ATM technology, Strat Aero said Tuesday.
"This represents another key step in our long term strategy for integrating unmanned systems across the spectrum of commercial operations including inspection, precision agriculture, and environmental management," said ETV CEO Cliff Hudson.
ETV, NASA and several other government and commercial organizations will work to test ATM and algorithmic platforms intended to manage requirements for UAV airspace design, geofencing, wind and weather integration, sense-and-avoid, demand and capacity imbalance and contingency operations.
The tools would also help the public and private sectors to develop communications, navigation and surveillance protocols for unmanned aircraft, Strat Aero noted.
NASA plans to collaborate with the Federal Aviation Administration during the ATM development process.