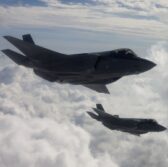 Joe DellaVedova, a spokesperson for the U.S. Defense Department's F-35 joint program office, has said Canada is looking to hold an open competition for a planned replacement of the country's fighter jets, Reuters reported Saturday.
Phil Stewart writes DellaVedova added that Canada will join an F-35 Joint Strike Fighter Program meeting that will be held early next month in Italy.
The Canadian defense agency wants to replace its military's aging fleet of CF-18s and is developing requirements for the program, the report said.
"I'm focused on the requirements that we need… as a nation that works with our allies as well, with NATO and our North American Aerospace Defense Command commitments," Harjit Sajjan, Canadian defense minister, told Reuters.
Canadian Prime Minister Justin Trudeau has indicated last month that it could drop plans to purchase the Lockheed Martin-built F-35 jets to replace the CF-18s.