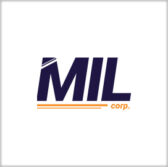 MIL Corp. will offer additional services to government agencies following the catalog conversion of the General Services Administration's Mission Oriented Business Integrated Services contract to the Professional Services Schedule.
The company said Monday the conversion adds financial management, auditing and financial training work to its current portfolio of consulting, facilitation, program integration and management services.
"This GSA schedule conversion… will allow us to expand our roles and presence with new and current federal and state customers," said Maurice Long Jr., president and CEO of MIL.
MIL added the MOBIS-PSS consolidation also works to help the company explore the engineering services area of work under the GSA schedule.