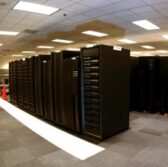 Microsoft will invest about $402.4 million for a planned expansion of its Mecklenburg County, Virginia, data center and the technology company expects to create as many as 42 new jobs through the project, the Richmond Times-Dispatch reported Friday.
The Virginia government has offered to provide $7,000 in Opportunity Fund grants and another $1.34 million from the state's Tobacco Region Revitalization Commission to help further expand Microsoft's data center operations in the county, the publication reports.
The Richmond-Times Dispatch estimates Microsoft has invested approximately $1.3 billion in the facility over the past five years.