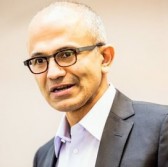 Microsoft CEO Satya Nadella has said enterprises should establish what he called an "operational security posture" in order to safeguard data networks, endpoints and cloud services from malware and other cyber threats amid the adoption of Internet-connected devices.
Nadella made the remarks Monday at the Microsoft-hosted Government Cloud Forum held in Washington.
He said this approach requires a comprehensive platform that works to detect, protect and respond to cyber vulnerabilities.
Other elements of the operational security posture include the expansion of partnerships with the information technology sector and the need to complement technology platforms with intelligence, Nadella said.
He also addressed work of enterprises to patch vulnerabilities and carry out basic security hygiene practices in order to protect data networks from security risks.