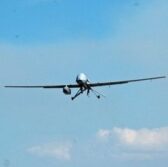 A Gray Eagle drone General Atomics built for the U.S. Army has completed a series of joint manned-unmanned aircraft teaming exercises in South Korea.
General Atomics said Wednesday the Gray Eagle worked to stream video and metadata to the AH-64 Apache helicopter from a remote location for operators to control the drone"™s sensors and identify targets.
The Apache helicopter then sent back the the imagery to a One System Remote Video Terminal to provide a view to ground forces.
Frank Pace, president of aircraft systems at General Atomics' aeronautical systems segment, said the company and Army sought to validate the MQ-1C Gray Eagle"™s "ability to conduct operations in diverse weather conditions that are typical on the Korean Peninsula."
Ground forces transmitted contact reports and target coordinates to operators in Gray Eagle"™s one system ground control station upon the drone's take-off.