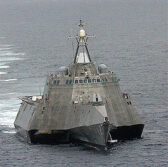 Serco Inc. and Science Applications International Corp. have received one-year contracts worth $17,959,283 and $17,113,248, respectively, to install integrated systems ashore or on board the U.S. Navy's ships.
The companies will compete for task orders to assist in the transition, fabrication, integration and procurement of systems under the indefinite-delivery/indefinite-quantity contract, the Defense Department said Monday.
Serco and SAIC will perform work in San Diego, California, through Oct. 25, 2016.
The Space and Naval Warfare Systems Center Pacific received two offers for the contract via the Federal Business Opportunities and Space and Naval Warfare Systems Command websites.