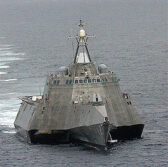 The U.S. Navy plans to install either Boeing's Harpoon or Kongsberg's Naval Strike Missile on future littoral combat ships in efforts to boost their lethality with an over-the-horizon surface-to-surface missile, Defense News reported Sunday.
Christopher Cavas writes that a Sept. 17 directive from Rear Adm. Pete Fanta, director of surface warfare, sought OTH missiles on both the USS Freedom and the Independence-class USS Coronado.
The directive also indicated plans to equip all LCS under construction, including the upcoming frigate variant, with OTH missiles that work to provide the ships the capability to counter larger vessels.
"The initial design should be able to spiral to an eventual goal of eight missiles per ship," Fanta said, according to the report.
The report said the Navy could try either the Boeing or Kongsberg missile on a particular LCS variant, preferably with the use of a box launcher.