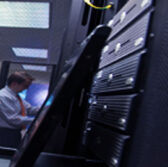 Penguin Computing has been awarded a $39 million contract to produce high-performance computing systems for use in stockpile stewardship tasks at the Los Alamos, Sandia and Lawrence Livermore national laboratories.
Lawrence Livermore picked Penguin Computing to provide more than 7 Petaflops of computing as part of the National Nuclear Security Administration's tri-lab advanced simulation and computing program, LLNL said Wednesday.
"These computing clusters will provide needed computing capacity for NNSA's day-to-day work at the three labs managing the nation's nuclear deterrent," said Doug Wade, head of NNSA's ASC program.
Penguin is scheduled to deliver the computing clusters to each of the laboratories beginning in April 2016 through September 2018.
NNSA seeks to replace the legacy computing systems purchased in 2011.