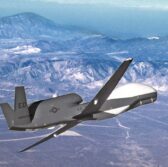 Northrop Grumman has broken ground on a new $10 million facility in Grand Forks, North Dakota, to carry out research and development work on unmanned aerial systems.
The 36,000-square-foot building will be built at Grand Sky UAS Business and Aviation Park and will also perform mission analysis, aircrew training and aircraft maintenance operations related to drones, the company said Thursday.
"We are proud to start this construction project and expand on our long-term commitment to this state and its advancement in UAS technologies," said Janis Pamiljans, vice president and general manager for unmanned systems at Northrop Grumman.
Sens. John Hoeven and Heidi Heitkamp, North Dakota Gov. Jack Dalrymple and Lt. Gov. Drew Wrigley were among the participants during the groundbreaking ceremony.
Northrop already has an existing manufacturing facility in New Town, North Dakota, that has been in operation for more than four decades.