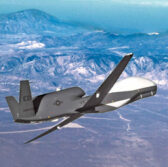 A MarketsandMarkets report forecasts the value of the global unmanned aerial vehicles market to hit $14.9 billion in 2020, with an 8.12 percent compound annual growth rate from 2015 to 2020.
The research firm said Tuesday the UAV market's value reached $10.1 billion this year and North America accounted for about 65.53 percent market share.
Technological advances in drone technology and a growing demand for non-military drone applications are projected to drive industry growth over the next five years, the report states.
Markets and Markets saw UAV spending increase in North America, the Middle East and Asia Pacific, driven by the adoption of drones for tactical use in these regions.
The company cited air traffic management issues, strict airspace regulations and a shortage of skilled and trained pilots as among the challenges the drone industry faces.
Key market players mentioned in the report include AeroVironment, BAE Systems, Boeing, Elbit Systems, General Atomics, Lockheed Martin, Northrop Grumman, Textron Systems, Thales Group and Saab.