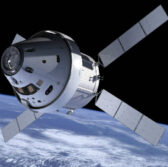 Lockheed Martin will move forward with the full-scale fabrication phase of its Orion spacecraft for NASA's Exploration Mission-1 as the agency and company have reported most of a critical design review as complete.
"The vast majority of Orion's design is over, and now we will only change things when new requirements come into play," Michael Hawes, a vice president and Orion program manager at Lockheed, said Monday.
NASA and Lockheed started this critical design review on the spacecraft in August and are scheduled to wrap up the CDR process in the spring.
The company is slated to deliver a pressure vessel for the Orion crew module to NASA's Kennedy Space Center in early 2016 and commence the final assembly, integration and testing phase.
NASA will launch the spacecraft with the Boeing-built Space Launch System into lunar distant retrograde orbit for the EM-1 unmanned flight test, which the agency expects to last for more than 20 days.