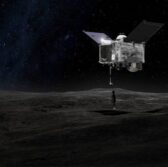 Lockheed Martin's space systems business has begun the environmental testing phase on NASA's Origins, Spectral Interpretation, Resource Identification, Security-Regolith Explorer spacecraft at its facilities in Denver.
NASA said Thursday it plans to launch the OSIRIS-REx space vehicle in September 2016 to collect samples of the Bennu asteroid for further research.
Lockheed will subject the spacecraft to a series of vacuum, extreme temperatures, electromagnetic interference, acoustical, vibration and deployment shock tests in the next five months in order to assess its capability to withstand extreme environmental conditions in space.
"OSIRIS-REx is entering environmental testing on schedule, on budget and with schedule reserves," said Mike Donnelly, OSIRIS-REx project manager at NASA's Goddard Space Flight Center in Maryland.
"This allows us to have flexibility if any concerns arise during final launch preparations."
Lockheed is scheduled to deliver the space vehicle to NASA's Kennedy Space Center in May to pave the way for final preparations before launch.