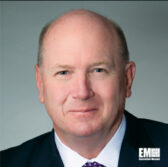 CACI CEO Ken Asbury said the company has developed sensor technology that he believes U.S. law enforcement personnel can use to track unauthorized use of unmanned aerial vehicles within the domestic airspace, the Washington Post reported Thursday.
Christian Davenport writes the U.S. Federal Aviation Administration wants to evaluate the potential of CACI's technology to monitor illegal drone flights near airports under a partnership agreement.
The company also seeks to help aviation officials locate UAS operators and commandeer a drone to leave sensitive airspace through its technology.
CACI executives discussed the collaborative project as they reported the company's quarterly financial results Thursday.
Asbury told The Post that the company is also developing a mobile platform that is derived from a military technology and designed to support wildfire-fighting efforts and other sensitive operations.