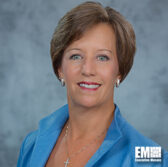 Rebecca Cowen-Hirsch, a senior vice president at Inmarsat, has observed the U.S. Defense Department seeking out opportunities to partner with satellite companies to increase DoD's military communications capacity.
Cowen-Hirsch wrote in a blog post published Wednesday on the Armed Forces Communications and Electronics Association website that she believes industry can help troops access on-demand satellite communication services and equipment by offering a satcom-as-a-service model.
"Collaborating with industry providers as partners, the DOD can take advantage of the best that both milsatcom and comsatcom have to offer, positioning U.S. military for mission success no matter where they are, or what their mission requires," she added.
She cited a 2014 DoD report that calls for the department to adopt a shared resource strategy to better manage satellites designed to help military personnel communicate with one another.
The House's version of the 2016 National Defense Authorization Act includes a $79.5 million budget for department-industry partnerships to build satellite technologies for military use, according to Cowen-Hirsch.