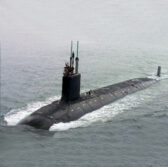 General Dynamics' Electric Boat subsidiary has launched the 13th Virginia-class nuclear submarine of the U.S. Navy at its shipyard in Groton, Connecticut.
First Lady Michelle Obama served as the sponsor for USSÂ Illinois (SSN 786) and Navy Secretary Ray Mabus delivered the keynote address during the christening ceremony Saturday, General Dynamics said Saturday.
Electric Boat will hand the Virginia-class Block III submarine to the service branch in 2016.
The 377-foot-long vessel is designed to sail at over 25Â knots and has a Large Aperture Bow sonar array, a 34-foot beam and two payload tubes designed to deploy Tomahawk cruise missiles, DoD News reported Friday.
General Dynamics said the USS Illinois submarine will work to help the Navy carry out surveillance, anti-surface ship, covert strike and countermine warfare missions.