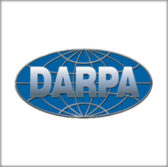 The Defense Advanced Research Projects Agency has issued a solicitation for industry proposals for a program that seeks to develop platforms designed to facilitate interoperability of airborne radio networks that manned aircraft and drones use to communicate with each other.
The objective of the Dynamic Network Adaptation for Mission Optimization program "is to enable pilots in one type of aircraft with a specific suite of sensors to easily share information with different types of manned and unmanned systems and also receive sensor information from those various platforms for a comprehensive view of the battlespace," Wayne Phoel, a program manager at DARPA, said Wednesday.
"We aim to develop technology that dynamically adapts networks to enable instantaneous free-flow of information among all airborne systems, at the appropriate security level and in the face of active jamming by an adversary."
DARPA will test aerial network systems that will emerge from the DyNAMO program on radio hardware built through the agency's Communications in Contested Environments program.
The C2E initiative aims to develop new architectures that will allow aircraft to communicate with each other across various radio networks and waveforms.
DARPA will accept proposal abstracts for the DyNAMO program through Oct. 28 and research proposals through Dec. 4, according to a broad agency announcement on the FedBizOpps website.