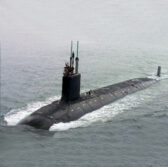 Boeing has awarded Ducommun a two-year subcontract to manufacture position sensors for integration with the Trident Navigation System onboard the U.S. Navy"™s Ohio-class and U.K."™s Vanguard-class ballistic missile nuclear submarines.
"This work builds upon our relationship with both Boeing and the U.S. Navy," Anthony Reardon, chairman and CEO of Ducommun, said Tuesday.
"We designed and manufactured the original sensors in the early years of Polaris and Poseidon submarines, so we"™re particularly pleased to continue to provide these motion control devices for the Navy"™s Trident nuclear submarine fleet," he added.
Ducommun will produce the sensors at its facility in Carson, California through 2017.