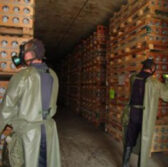 A joint venture of Bechtel National and Parsons Government Services has wrapped up the construction of a facility built to destroy the chemical weapons stockpile at the Blue Grass Army Depot in Kentucky.
Bechtel Parsons Blue Grass established the plant in Richmond, Kentucky, under a contract with the Defense Department's Program Executive Office – Assembled Chemical Weapons Alternatives and in compliance with the 1997 Chemical Weapons Convention, Bechtel said Tuesday.
The Blue Grass Chemical Agent-Destruction Pilot Plant will work to neutralize 523 tons of nerve agents such as VX and GB (Sarin) and mustard agents in artillery shells and rockets once it completes the testing phase.
Bechtel said the facility will use chemicals and supercritical water oxidation process to neutralize the agents.
The joint venture also has begun construction work on the Explosive Destruction Technology building in Colorado that will work to break down mustard agent-containing weapons.
The company expects the facility to be completed by early 2017.