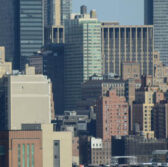 Allegheny Science & Technology has opened a Tysons Metro Center headquarters in an effort to respond to the growing customer needs in Washington.
Allegheny leased the facility to serve as its National Capitol Regional base, where the company's corporate business development, proposal and recruiting operations will be located, Allegheny said Wednesday.
"It's an exciting time for our company and provides an opportunity to create jobs, continue to invest in our people and our customers," said Arria Hines, AST CEO.
The launch of the new headquarters follows AST's establishment of a new office in L'Enfant Plaza this month.