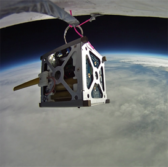 An Aerospace Corp.-built CubeSat has reached orbit after it lifted onboard the Atlas V rocket at California-based Vandenberg Air Force Base Thursday.
NASA said Saturday the CubeSat spacecraft is part of the Optical Communications and Sensor Demonstration mission that will work to assess the capability of the miniature satellite to perform laser-based data transfer at a maximum rate of 200 megabytes per second.
"By improving the communication capability of small spacecraft to support data-intensive science missions, OCSD will advance the potential to become a more viable option for mission planners," said Steve Jurczyk, associate administrator for the Space Technology Mission Directorate at NASA.
The OCSD CubeSat spacecraft with the hard-mounted laser is one the 13 nanosatellites that launched aboard the United Launch Alliance-made rocket as part of the Government Rideshare Advanced Concepts Experiment program.
The nanosatellites were selected under the CubeSat Launch Initiative to demonstrate small satellite platforms intended for radio communications, Earth observations, X-band radio science transponder, and control and communications operations.
The second OCSD mission is scheduled to deploy two CubeSats by February to test the capability of the miniature satellites to navigate small spacecraft.