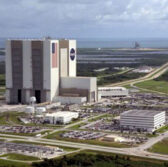 A business unit of AECOM has been awarded a five-year, $7 million contract to maintain and operate NASA's UH-1H-II aircraft and aerospace ground equipment.
URS Federal Services will assist in the flight, maintenance and operations of three UH-1H-II aircraft at the agency's Kennedy Space Center shuttle landing facility in Florida, NASA said Wednesday.
NASA said the contract will go into effect Thursday.
The UH-1H-II aircraft is a variant of Bell Helicopter's Bell Huey II rotorcraft.